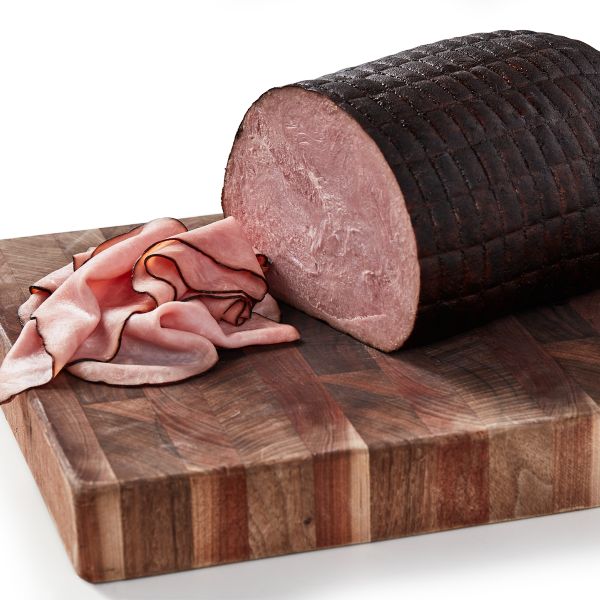 SPECIFICATIONS
| | |
| --- | --- |
| Item # | 130138 |
| TI x HI | 10 x 6 |
| Pack Size | 2/9 lb avg |
| Case WT | 19 lbs |
| Cube | 0.51 |
| Dimensions | 12.38″ x 10.13″ x 7.00″ |
DESCRIPTION
Serve ham hot or slice it and serve it cold.
KEY ATTRIBUTES
Water Added
Artificially Colored with Caramel Coloring
Naturally Hickory Smoked
Boneless
Extra Lean
Fully Cooked
Gluten Free
No Added MSG
INGREDIENTS
Cured with: Water, Salt, Potassium Lactate, Sodium Lactate, Sugar, Sodium Phosphate, Sodium Diacetate, Sodium Erythorbate, Sodium Nitrite, Smoke Flavoring, Caramel Color.
COOKING INSTRUCTIONS
All Cloverdale hams are fully cooked and ready-to-eat.
OVEN: Preheat oven to 350°F. Place ham in roaster or roasting pan. Add ½" water and cover with foil or cover with roaster lid. Bake at 350°F for 45-65 minutes or until center of ham has reached an internal temperature of 160°F on a meat thermometer.
Cloverdale Foods is a 4th-generation, family owned company based in Mandan, North Dakota. For over 100 years, Cloverdale has crafted premium, bold flavors which bring lasting memories to families everywhere.